TScore version 10.2 brings a new dimension to the popular suite of products – the ability for judges to individually enter deductions for each move through tablets or phones on each panel.
The companions TScore Judge app is available for Android devices and can be obtained from the downloads page of this site. We will at some point make this available via the Google Play store too.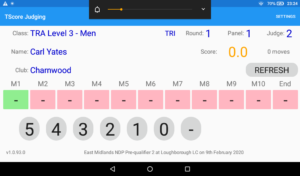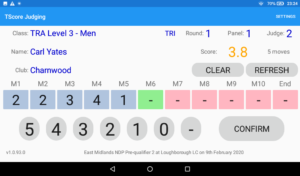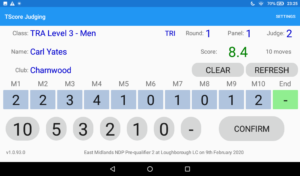 We have now used the new system successfully at 4 live UK Regional NDP events, where it received a very positive response. The ability to give precise feedback to athletes and judges on how they did is a great bonus too.
This paves the way for the phased change towards using median per-deduction scores that is already being used at the top end of our sport, and is expected filter down to regional and club level over the next year or two.
A more immediate change that we are expecting is the use of Time of Flight at lower level competitions. To this end, we have begun integrating with other vendors to export entry lists, with the intention of supporting direct ToF entry from these systems in the near future.