Welcome to the TScore website!
TScore is a computer program that helps you organise and run Trampoline, Synchro, DMT, Tumbling, Acro, Pole Sports and Artistic Gymnastics competitions.
It handles competition setup, entry processing, timetabling, scoring and results processing.
TScore is highly intuitive and very forgiving – complete novice computer recorders can learn it in a few minutes.  It is also we believe, the most feature rich product of its type on the market.
Although simple to use, TScore is very sophisticated.  It can handle the latest BG, FIG and USAG rules and offers customisable results lists and personalised certificates.
Since TScore is developed by a UK trampoline coach, and used at our regional comps, updates will be available whenever the BG rules change.  It also includes specific adaptations for BSGA (Schools) competitions, with the ability to separate team and individual entrants running within the same classes.  Automatic emailing of entrants makes handling communications with over 150 schools so much easier!
Since 2015, we have supported USAG-JO scoring systems and in 2016 added Range and Conditioning scoring.  TScore can support a range of non-English character sets for some of its functions.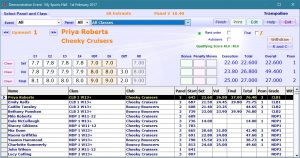 The newest version 10.2  includes Horizontal Displacement of course, but with this release we have added the ability for each execution judge to enter move-by-move deductions using Android tablets and integration with time of flight systems. We expect this to be a popular feature!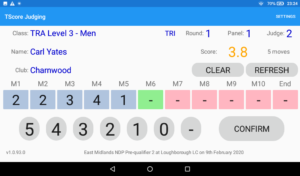 TScore also offers Artistic Gymnastics scoring, including multi-piece events, static competitor numbers and individual score tickets.  The Trampoline, DMT,  Tumbling, Acro and Pole parts of Version 10 are now fully released product. The Artistic Gymnastics section however should still be regarded as a beta trial feature, as we have not run full competitions with this functionality yet.
Despite the challenges of the ongoing pandemic, we are preparing for life to return to normal for next season and taking advantage of the time to enhance the product.
We are looking forward to a great 2021!